Meet the Dentists at ABC Dental Centre
Dr Jim Chuang (Dentist) – An Emphasis on Relationships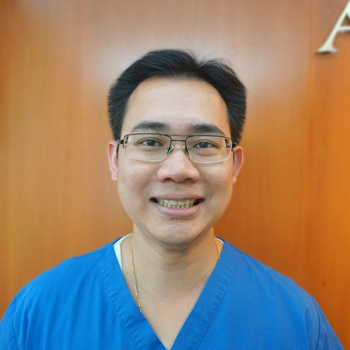 Dr Chuang enjoys the opportunity to give people the oral health that they deserve, making lifelong relationships in the process. His desire to become a dentist came from his belief in helping others in need.
He is also a member of the Australian Dental Association, taking a particular interest in dental implants and braces. Although practicing all aspects of dentistry, Dr Chuang especially enjoys unique procedures like wisdom teeth removal, dental bone grafting, sinus lifts, dental implant placement and accelerated orthodontics.
When he isn't attending to his patients, Dr Chuang enjoys spending as much family time with his two young children as possible. When he's free, he prefers to bicycle or play basketball.
Education
Dr Chuang graduated from dental school at the University of Queensland with honours in 2006. Since then, he continues to pursue postgraduate training and education throughout each year.
Read more here…
Accreditations & Continuing Education:
Level 3 Accreditation with the Australian Society of Implant Dentistry – 2008.
Invisalign Accreditation 2010
World Dental Forum – Hong Kong 2012
MIS Implant Global Conference- Cannes France 2013
Australasian Academy of Dento-Facial Aesthetics (AADFA) Accreditation – 2014
Advanced Computer Guided Dental Implant Surgery – MGUIDE – 2015
Concentrated growth factors/ Dermal-dental/ Aesthetics medicine Conference – 2016
Mater Hospital Venipuncture accreditation – 2016
Member of the Australian Dental Association
Areas of Expertise
General & Preventative Dentistry
Implant dentistry
Placement/restorative of multiple implant systems
Advance surgical and bone grafting techniques
Socket preservation, Socket shielding
Autogeneous bone harvesting and grafting
Lateral window and crestal sinus lifts
Concentrated Growth Factors (CGF & PRF)
Periodontic Treatment and surgery
Crown and bridge rehabilitation;
Orthodontics braces
Fast Braces
Invisalign
Cosmetic teeth whitening.
Cosmetic ceramic and composite veneers
Functional and Cosmetic Facial Injectable and Fillers
Advanced & complicated wisdom teeth extractions
1 Stage Root Canal Treatment/Rotatory endodontics

Dr Haowen Zeng (Dentist)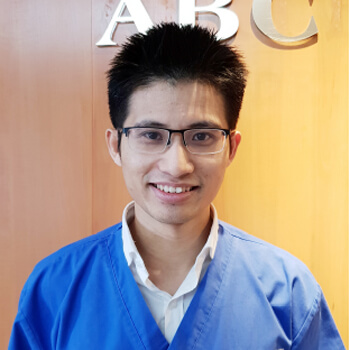 Dr Haowen graduated from the University of Queensland with honours in 2015. Since then he has practised in regional and metropolitan NSW, acquiring a wide array of skills. Ultimately, the allure of the Sunshine State proved too strong, and he has settled down back in Brisbane.
He is patient and caring, and believes that dentistry is as much about the personal connection made with individuals and families over time, as it is about educating, treating and raising awareness.
Away from work, Haowen enjoys constantly learning, exploring the local attractions and is a self-confessed tennis nut.
Continuing Education
Accreditation with the Australian Society of Implant Dentistry – 2021
Contemporary Implant Dentistry, Frankfurt University – 2021
ADAQ Practical Oral Surgery – 2020
Cynergex Management of Medical Emergencies in the Dental Practice – 2019
Australian Dental Congress Melbourne – 2017
Swiss Dental Academy Modern Prophylaxis Techniques for Your Practice – 2016
ADA NSW Convention Bathurst – 2016
ADAQ Toowoomba Clinic Day – 2015
Member of the Australian Dental Association

Dr John Lin (Dentist)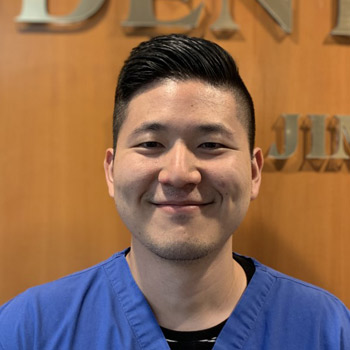 Dr. John graduated from Griffith University with a Bachelor of Oral Health and Dental Sciences and had since been working in Central Queensland before moving back to Brisbane. During his time in the rural clinic, Dr. John has expanded his scope of practice so he can provide a more comprehensive treatment to his patients.
He firmly believes that prevention is better than cure and spends time to go through the importance of oral hygiene with each of his patients.
Dr John practices all aspects of general dentistry and puts an emphasis on building rapport with his patients. "My goal is to make each visit as comfortable as it can be for every patient".
Outside of dentistry, Dr John enjoys spending time with his family and friends. He is a huge basketball/NBA fan and is guilty of being a K-pop fan.
Book a Visit Online
At ABC Dental Centre, we strive to always provide the best care at a cost-effective price. We're dedicated to meeting the specific concerns that you or your child may have.
Book a visit online or call us at (07) 3371 5441. We're in-network, and all health funds are filed on the spot, whether it's an evening or Saturday appointment.

ABC Dental Centre | (07) 3371 5441